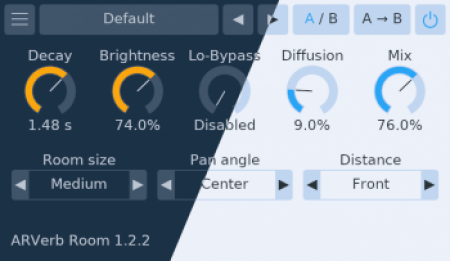 MOCHA | 20 November 2023 | 411.58 KB
ARVerb Room Realistic reverb plugin based on physics. Fast and lightweight.
ARVerb Room is a reverb plugin that uses new physics-based modeling to achieve immersive spatialization, transient preservation and consistent sound.
Besides giving life to a single instrument, ARVerb Room may be used to glue multiple tracks by making them sound like they're in the same space, while maintaining good track separation. The space-saving minimal user interface only has a handful of musical controls, making the algorithm easy to set up.
Key features
:
Multiple source locations
Placing the different tracks at different locations in the same room helps creating a cohesive whole with good track separation.
Three room algorithms
The "small room" model is a fast-building reverb with the typical coloration of small space ambiances. The "large room" model does the opposite: slow, deep, and dense reverb with slight echo. And there's a third model in between.
Low-end bypass control
Low frequency phase changes contribute a lot to the perception of space, but they are not always desirable (e.g., for mono compatibility or if the low-end already uses specific processing). The bass bypass control allows you to smoothly skip any processing of the low-end.
True stereo spatialization
The stereo-in, stereo-out processing is designed to create an accurate spatial image from stereo tracks or to add life to mono tracks.
System requirements:
Intel - Windows 10 or newer (64-bit only).
home page:
https://bit.ly/3gCLEqn
Related News: