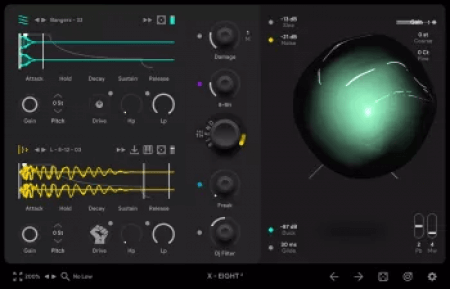 MOCHA | 20 November 2023 | WiN: 21.7 MB | MAC: 34.6 MB | Samples: 180.73 MB
X-Eight 2 gives you more than 1342 808 & Kick samples in different lengths and forms, ranging from subtle and deep, through to mid-saturated, long, and heavy distorted basses.
Created with obsessive attention to detail which you can use to help your 808 needs blast through the speakers. Yes Sure you can Drop in a kick sample, a bass sample, or something totally far out! Everything you need to make heavy yet smooth hip-hop, future bass, and, of course, trap.
Thenatan says:
Finding a great 808 sample can be a difficult task for any producer, you browse through hundreds of 808s, but nothing works.
The days of blending and layering multiple basses to get your low end just right are now over.
We are proud to present X-Eight 2, an evolution and expanded edition of X-Eight 808 VST that was a favorite with many producers and BeatMakers. Now with many Advanced features, surgical controls – and improvements in sound and UI Design.
They continue:
Our goal with V2 was to make a comprehensive 808 VST to fulfill all of your low-end needs.
X-Eight 2 and its next-level features give you an infinite number of ways to bring you tight, hard-hitting, and punchy 808 basses that cut through mixes with very little effort.
X-Eight 2 includes some crazy, weird 808s, Basses, and Drums Presets that you wouldn't even think came from an 808 VST. You'll instantly hear songs when going through our patches.
Either starting with one of 1200 expertly crafted presets or easily creating sounds from scratch, X-Eight 2 is magical, delivering every possible 808 sound you could think of in different tones and pitches, making it easy to find the right 808 for your production without interrupting your workflow.
X-Eight 2 Specifications
:
✓ 2 Samplers, each with, filters, reverse, pan, Gain, Drive, and tuning.
✓ Import your kick samples into Kick Player.
✓ Add an extra layer of Noise or Sine over your 808s.
✓ Brain Randomizer Designer, get creative with LFOs and Envelopes.
✓ X-Eight 2 includes 1342 Sub, Kick and Extra samples.
✓ Built-in 10 Effects (Damage - Bit Crusher - Freak - DjFilter - MonoBass - 3Band Equalizer - Bit Crusher - Saturation - LP/HP Filters - Stereo Widener).
✓ Built-in Modulation system (Pitch LFO / Filter LFO / Filter Envelope).
✓ Glide, Velocity Control, ±24 Transpose Control.
✓ Get a clean combination of 808 and Kicks using the Ducking Effect.
✓ Highly compressed sample library (X-Eight 2 is only 270 MB on your disk) and you can install samples wherever you want on external hard drives.
✓ Fully resizable vector / HD interface (up to 200%, sharp and smooth).
✓ Get inspired with animations.
✓ Preset Browser system (1200 factory Presets and shareable Patches).
home page:
https://goo.su/lC5Qu2
Related News: