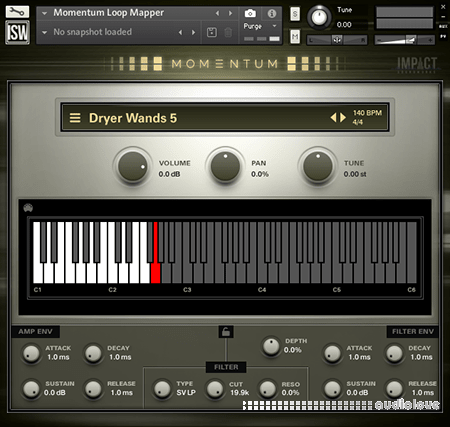 SYNTHiC4TE | 08 Oct 2017 / 08 Nov 2017 | KONTAKT 4.85 GB
WAV-REX 6.62 GB | Stylus RMX 5.97 GB
The ideal rhythm collection for film, TV & game composers: a treasure trove of 2,500+ truly unique, organic percussion performances, categorized and tagged with extensive sound design tools! Includes not only powerful Kontakt patches, but also sliced REX/WAV files and both chromatic and sound menu oneshot/multisample patches for instant inspiration.
We are always looking for rhythmic elements to add to our music. Whether it's a pop EDM track, an epic trailer cue, or a tense action underscore, these elements can set the tone for the mood and feel of the piece. It's that pulse, the driving force that hooks the listener immediately.
Momentum offers a tremendous collection of original, acoustic percussive performances just a click away. Everything was created and recorded organically. Unlike countless other rhythm/pulse libraries, these are not just synthetic elements processed with the same set of tools that everyone else uses.
We captured such sounds as mistreated bass drums, rare hand percussion, hammered guitars, slapped cellos, wine glasses, found metal objects, giant boxes, tiny blocks, and a treasure trove of other unique instruments. In total, we recorded over 2,500 performances and hundreds of multisamples, then tagged and categorized every sound to make them as easily as possible to access.
These sounds come from a diverse array of talented recording artists and sound designers, each offering their own distinct take on the challenge of organic, unexpected percussion.
With Momentum, finding and editing the perfect, organic rhythm element is easier than ever before. We know it will inspire your music!
Kontakt patches require FULL VERSION (not player) of Kontakt version 5.5.2 or higher
WAV / REX2 files do not require Kontakt
8GB disk space (Kontakt ver)
8GB disk space (WAV/REX files)
Momentum + Stylus RMX = Inspiration
You can now use the incredibly diverse and creative sound set of MOMENTUM in the powerful Stylus RMX plugin! Every single loop has been categorized into suites and organized by instrument and time signature.
home page:
http://bit.ly/2y8GJFx
Related News: