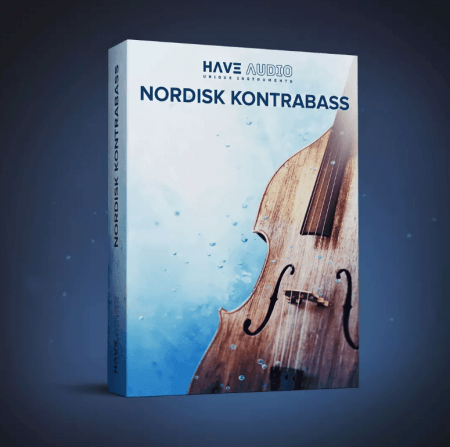 P2P | 20 September 2023 | 11.33 GB
NORDISK KONTRABASS is a unique upright bass instrument designed for film composers and music producers looking for fresh and original sounds.
Superbly performed by a top creative player, Nordisk Kontrabass is great both as a fat, real sounding upright bass and as a stand-alone compositional tool, capable of delivering beautiful and engaging string harmonies and textures, powerful rhythms and emotive melodies that will make your music stand out.
TECHNICAL SPECIFICATION FOR NORDISK KONTRABASSCredits:
Instrument: Upright Bass
Musician: Roberto Bordiga
Recorded and mixed at HAVE Studio, Madrid
GUI Design and 3D animation: Voger Design
TECHNICAL SPECIFICATIONS
15000+ samples. Requires full version of KONTAKT 5.6.8+ (not compatible with Free Kontakt Player).
MIC OPTIONS:
~Stereo MIC
~DI
~Mix MIC/DI
BUILT-IN EFFECTS AND CONTROLLERS:
~Arpeggiator
~Selection of 9 top class Reverbs
~Ice Effect
~Delay
~Reverse
~Warp (realtime controllable Time Stretch)
~Legato Speed
8 GB of RAM or more is highly recommended
Sample resolution: .ncw format
Size:
9,7 GB
(aprox 6,61 GB compressed file)
ARTICULATION AND PRESET LIST:MELODIC:
~Whales Legato and phrases
~Glissando Whales
~Harmony of Whales
~Harmony of Whales 2
~Pizzicato
~Double stops pizzicato
~Thumb choked pizzicato
~Weird pizzicato
~Harmonics
~Natural harmonics
~Anjor
~Dirty tremolo
TEXTURAL:
~Twisted pizzicato textures
~Wood body percussions
~Bow textures
~Low Engines
~Unusual Textures
~Rises
~Falls
~Pizzicato drone 1
~Pizzicato drone 2
~Pizzicato drone 3
home page:
https://goo.su/0HGGk
Related News: