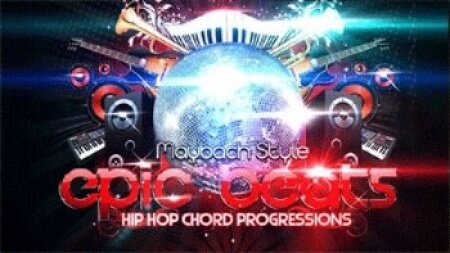 Team MAGNETRiXX | 09 December 2012 | 2.12 GB
MUSIC IS BACK!!! And that's why I'm back with a brand new DVD entitled "Epic Beats"! People want to hear REAL MUSIC! Which means, you need to learn how to make REAL MUSIC! And those who know how to make REAL MUSIC! Makes REAL MONEY!! Have REAL FANS and are easily considered REAL PRODUCERS at the end of the day.
Now you may have noticed the trend change in music. You've noticed the airwaves flooded with Nicki Minaj, Lil Wayne, Rick Ross, Drake, and David Guetta just to name a few. The elementary sound of the Soulja Boys are history for the moment and real music is back gracing the hearts of listeners all over the globe. The music sounds, rich, whole, thick and complete! And it's all due to one well known fact…….these producers know and understand theory! They know chords, and they understand how to construct progressions and put them together.
As a professional producer, it's your job to know music theory, period. But unfortunately this is not an easy task. This is because learning music theory is often buried with the impression that you need to learn all the basics from note reading to fingering, modes and all the other garble, so that piano teachers can cash in on years of training. But I'm going to change all of that for you shortly. (Technology has made it simple for us all)
I remember spending $600.00 on piano lessons and all that fool of a teacher done was sit me in a closed boxed room and made me play these stupid scales for literally 2 hours. I was distraught. Oh, and broke. Not to mention ANGRY!!!
Anyway, 10 years later, I decided to at least educate myself on basic music theory and guess what, just as I thought, that's all I needed to learn. Now that I know music theory (And it only takes a few moments of your time, to at least understand the language) I'm now able to put together the type of music that's been literally locked away in my head most of all my life!
Now this is where you come in! Because I'm going to teach you, the basis, while introducing you to something brand new!
Now some of you, or maybe most of you reading this may already know at least the basics, but regardless, you will get a refresher. But added to that, you will learn how to generate new ideas, and probably most important, you will learn how to turn ALL of your ideas into EPIC AND MASSIVE production tracks.
I'm going to help you learn theory, 5ths, 4ths and progressions, how they work, how to use them in your music production and how to take a simple 2-4 part progression and literally turn it into that big massive sound you hear in music today!
The primary reason for this DVD is to help you understand the techniques used to produce that type of sound. It's solely geared towards that specific genre, so if you're not interested in that genre of music, then this DVD might not be for you. But if you are interested in this particular craft, then not only will you benefit greatly from this series DVD, but you will be equipped with all you need to enter into the real arena of professional producer pioneers.
Your music will indeed stand out and certainly without a doubt separate you from the rest of the massive world of producers scratching and clawing there way to the top of the production food chain.
Here are a few video previews you can check out for now, but the DVD will have commentary and step by literal step detailed instruction on what went into each production sessions, watch below:
Related News: