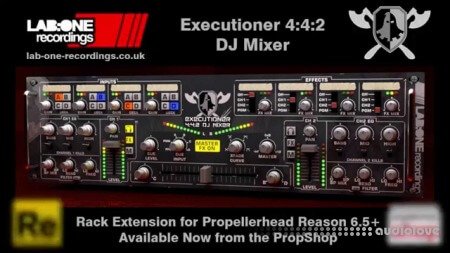 Team R2R | 19 October 2021 | 86.2 MB
Lab:One Recordings brings to the Rack their take on a well respected piece of equipment: Executioner 4:4:2 DJ Mixer
Executioner brings to the Rack the djing aspect of music production. Now everyone can be the DJ with Reason
Lab:One Recordings brings to the Rack their take on a well respected piece of equipment: Executioner 4:4:2 DJ Mixer.
Executioner 4:4:2 DJ Mixer brings to the Rack the ability of DJ style crossfading and effect & filter controls to music producers, artists and turntablists alike - now everyone can be a DJ with Reason.
Executioner 4:4:2 DJ Mixer has the following included:
4 routable stereo input sockets, with dedicated gain controls & metering
4 dedicated routable effects send & return sockets, with dedicated controls & metering
2 channels with split balancing input decks
Channel panning & level controls, with dedicated metering
Channel dedicated Bass / Mid / High EQ controls
Channel dedicated dual mode filters
Channel FX / CUE / Mute controls
Cue selector, gain control and Cue output sockets
Master FX / gain control and Master output sockets, with dedicated Master metering
Crossfader with a crossfade curve control setting (for house-music DJs through to turntablists & scratch-artists)
Executioner can be used not only in a DJing sense, but also as a creative mixing device, allowing you to chop beats like a pro, sculpt soundscapes like a specialist, and mangle effects like no other. With DJ based filtering options and an intuitive filter (from Low Pass to High pass sweeping with the ability to blend into a Band pass filter with a simple control), Executioner is a very flexible unit to say the least
Executioner can also be used as a live performance tool, giving you the freedom to mix what you want how you want. Bring in to the Rack external sounds and mix with them in the sequencer bring more of the fun back into mixing - Executioner can be fully automated, plus CV controlled for even more creative mashups.
See the Lab:One videos on how to get the most from Executioner - internally, externally and all-in-the-box on-the-fly mixing
You need R2R Reason release and TEAM R2R Reason Rack Extension Cache Builder.
home page:
https://bit.ly/2Z1Xrpk
Related News: