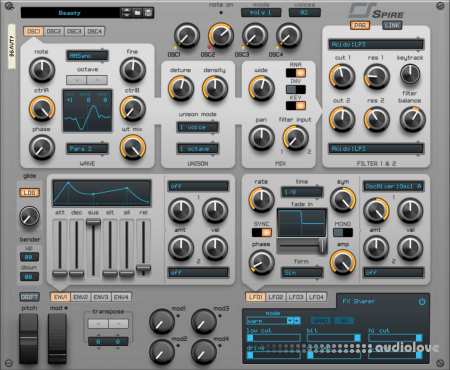 Team DECiBEL | 14 September 2021 | 76.2 MB
Founded in 2009 by musicians and programmers, Reveal Sound had the intention of creating first-class audio software. The purpose of our company is to prove that soft-synths can sound amazing. We are constantly improving our algorithms to achieve the perfect result. ReSpire is a Rack Extension polyphonic synthesizer that combines powerful sound engine and flexible modulation architecture. ReSpire embodies the best of both software and hardware synthesizers.
VERSATILE OSCILLATORS
4x multimode polymorphing oscillators Classic, Noise, FM, AMSync, SawPWM
UNIQUE UNISON ENGINE
9x unison voices on each oscillator Spread unison voices by chords and octaves Capable of imitate different types of unisons like supersaw, hypersaw
SUPERB SOUNDING FILTERS
2x multimode filters with analogue and digital types of filtering Perfecto, Infecto, Acido, Scorpio, Combo
HIGH QUALITY BUILT IN FX PROCESSOR
Shaper/Decimator, Phaser/Vowel, Chorus/Flanger, Delay, Reverb
INCREDIBLY FLEXIBLE MODULATION ARCHITECTURE
4x Macroses, 4x Envelopes, 4x LFOs with morphing shapes, 15x Matrix slots each of equipped with 2x sources and 4x targets
2x STEPPERS, ARPEGGIATOR
MAKE YOUR SOUNDS FATTER
with X-Comp (Multiband Up/Down Compressor) and 3-band EQ
STUNNING PRESETS
Over 800 factory presets including complex arpeggios and bass sequences, a versatile assortment of leads, exhilarating pads, plucks, drums and FXs
You need R2R's Reason release and TEAM R2R Reason Rack Extension Cache Builder
Copy the RackExtension folder to
"%APPDATA%Propellerhead SoftwareRackExtensions"
Copy *.R2RRECACHE file to
"%APPDATA%Propellerhead SoftwareR2RRECACHE"
After you add new RackExtension(s), you need to rebuild the RE cache:
- Just run "RECacheBuilder.exe" from TEAM R2R Reason Rack Extension Cache Builder
- Cache file will be built.
- Done!
home page:
https://bit.ly/2YVzujz
Related News: