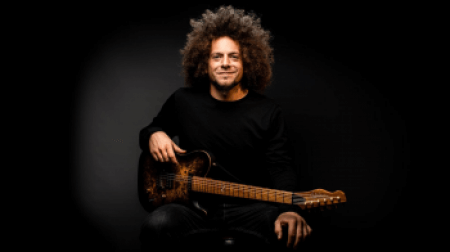 P2P | 23 August 2021 | 9.12 GB
What is going through Rabea's head when he sits down to write new music?
For the first time ever, Rabea pulls back the curtain on his process for writing Progressive Rock riffs. This is a truly deep dive into his mindset, approach, and inspiration when writing riffs in this genre.
You will learn how to develop more interesting chord progressions and how to connect them with single note phrases, how to use articulations and techniques to express your ideas creatively, Rabea's framework for writing more interesting rhythms and exploring odd time signatures, his approach to incorporating effects pedals to dial in the perfect tones to create unique and imaginative guitar parts, as well as a deep exploration of his favourite themes to inspire your next epic song.
Throughout this course, Rabea shows you these concepts in practice by breaking down riffs from his bands Toska and Dorje, as well as his solo material.
At the end of the course you will put your new knowledge into practice with a detailed breakdown of one of Rabea's original tracks complete with full notation, tab, and backing track provided.
Formats: MP4, MP3, PDF, GP5
home page:
https://bit.ly/387fHyT
Related News: