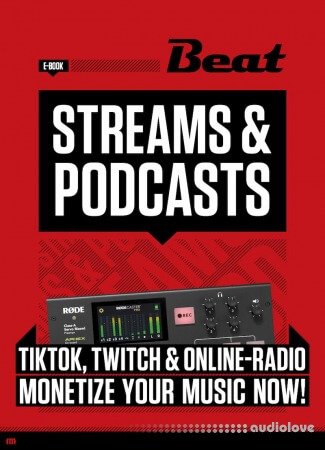 P2P | 02 August 2021 | 10 MB
YouTube, TikTok, Facebook... Streaming is more popular than ever, but classic media forms like podcasts are also gaining in popularity. It's no surprise when parties are transmitted over the net and DJs play their sets in front of a virtual audience. We take a holistic approach to the topics and show you the best techniques and equipment for streaming and simultaneously explain how you can not only collect likes but also generate revenue.
The BEAT eBooks - Quick Skills for Creators
The BEAT eBooks are all about making: Designing sounds, producing hits, setting up studios, selling and streaming music and much more. Each eBook offers its own individual focus, from synthesizers to recording to performance and sound design, with both technical and creative depth. Also included are solutions for mixing and mastering, enriched with market overviews and interviews for valuable experiences from everyday studio life. With the optional software downloads, you get everything you need to create.
Product details:
16 pages
all about Tiktok, Twitch & Online-Radio
home page:
https://bit.ly/2VcDpXG
Related News: