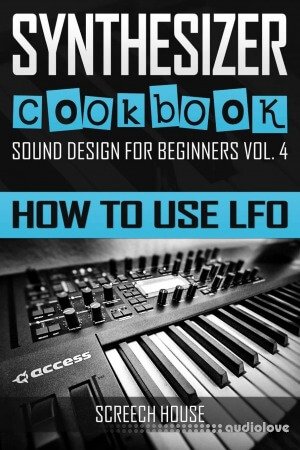 English | 04 March 2019 | ISBN: 1797516124 | 63 pages | EPUB | 484 KB
In the Synthesizer Cookbook Volume 4, you will learn exactly how to use LFOs on a subtractive synthesizer. Thereby, you will discover all the essential settings to achieve the final important part of high-quality sound design.
How to use LFO targets
How to use LFO shape
How to use LFO amount
How to use LFO speed
How to use LFO delay and attack
How to use volume LFO
How to use panning LFO
How to use filter LFO
How to use pitch LFO
The complete Sound Design for Beginners series
The other volumes will teach you three different major synthesizer sections. Whereas volume 1 will explain how to use oscillators, volume 2 will show you how to use filters and volume 3 will reveal how to use envelopes. If you want to learn about these topics, you can make your series complete by getting all copies, accessible via Cep's author page. If you want to have everything in one complete bundle, simply get your edition of the Sound Design for Beginners guide.
BONUS: Free sample pack
As a bonus, the Synthesizer Cookbook series includes a free hand-crafted sample pack that you can download via the link inside.
Become an outstanding music producer
For the fourth and final installment in this series, Cep takes you through the most important LFO settings, step by step. At the end of this book, you will know exactly HOW they work, WHAT they do and WHY you should use them. It is this powerful knowledge that successful producers always use to effortlessly distinguish themselves from all mediocre amateurs.
home page:
https://amzn.to/2ROqEjY
Related News: