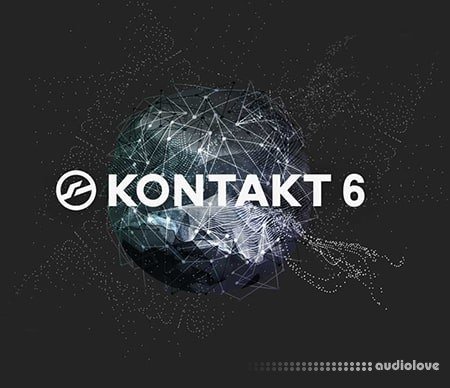 MORiA | 28 April 2021 | WiN: 648 MB | MAC: 542 MB
With KONTAKT 6, you can sound like a snare drum, a symphony orchestra, or anything in between, from a universe of sampled instruments. It's a simple sampler when you want it to be, and a deep sonic scripting laboratory when you need something more. The next generation of the world's favorite sampling platform gives you new instruments and new features under the hood – so you can layer, link, stretch, and shape your sounds any way you can imagine.
What's new?
Over two decades, KONTAKT has become a highly-developed engine for creating and playing sampled instruments. KONTAKT 6 offers more for players and builders alike:
Introducing KONTAKT Play Series: Three new instruments for the KONTAKT library, offering pristine, contemporary sound in a creative and streamlined interface
Wavetable synthesis module: Build hybrid instruments for entirely new sounds
Enhanced effects: Even more effects for your creations, for greater expression and realism
Creator Tools: New standalone application dedicated to improving the library creation and editing process.
THREE NEW INSTRUMENTS
KONTAKT 6 introduces the KONTAKT Play Series: Sonically rich sample libraries that combine powerful sound design with simple playability. Each offers eight intelligently mapped macro knobs giving you a wide-sweeping, intuitive range of control. They all showcase KONTAKT's new wavetable module, each offering two blendable sound sources and a unique take on a speciality style.
ANALOG DREAMS
Iconic 20th century hardware synthesizers captured with an intricate level of detail, and creatively processed with seminal outboard effects. This hybrid analog/digital instrument utilizes blendable sound sources to deliver a modern take on classic electro and synthwave, which have seen a resurgence in recent cinema.
ETHEREAL EARTH
Hybrid organic/electronic instrument that takes myriad acoustic instruments from around the world, and combines it with digital synthesis, organic foley layers, and effects processing. The result fuses traditional and digital, with basses, strings (bowed and plucked), wind instruments, tuned percussion, bells/metals, pads/drones, leads, and textural ambiences.
HYBRID KEYS
A contemporary, creative, and ultimately new take on keys and piano sounds. HYBRID KEYS moves away from conventional sampling processes and instead focuses on inventive techniques such as re-amping, creative mic positioning in interesting spaces, and vari-speed experiments with tape.
NEW FEATURES FOR BUILDERS
KONTAKT has long since grown beyond its origins as a software sampler, and now provides a solid foundation for building advanced sample-based instruments. We've been supporting this platform, and the people who use it, with continuous updates to KONTAKT 5, and KONTAKT 6 builds on this strategy with some big additions for you builders out there.
NEW EFFECTS
Replika Delay: Based on the dedicated Native Instruments plug-in REPLIKA XT, it offers multiple delay modes, each with a vastly different sound character.
Room Reverb: A new high-quality algorithmic room reverb that offers options for real time modulation.
Hall Reverb: Another high-quality algorithmic reverb, tuned for hall sounds.
Plate Reverb: Emulates a plate reverberator for for classic vintage metallic sounds.
Cry Wah: Wah-wah effect module, based on the most popular wah pedal of all time.
WAVETABLE MODULE
The latest version of KONTAKT adds wavetable synthesis to the ever expanding KONTAKT toolset. All three of the new Play Series instruments incorporate this new module, and we're looking forward to hearing what you create with this powerful new building block.
CREATOR TOOLS
Creator Tools is a standalone application designed to improve the workflows of library builders and instrument creators. It consists of two elements: A Debugger, for identifying and fixing problems in KONTAKT script, and an Instrument Editor, which can load and run Lua scripts to automap samples, duplicate and batch rename groups, and copy settings from one part of an instrument to another.
[sepblock]
6.5.0 - 2020-01-27
New KSP bindings, resolve missing content across all instances, macOS Big Sur compatibility
FIXED Kontakt is now Mac OS Big Sur compatible
CHANGED Minimum supported macOS version is now 10.13
FIXED UI Scaling issue on Cubase, Ableton and Studio One on Windows
FIXED Kontakt was not releasing memory correctly
FIXED Manually typing BPM in the Wave Editor Grid section did not work
FIXED Selecting groups with the arrow keys in the Group Editor did not work
FIXED Sample playback could glitch under certain conditions when set to High or Perfect modes
FIXED The Main FX strip was not correctly recalling values from snapshots
FIXED The Main FX strip was not correctly recalling host automation assignments
FIXED Manipulating the convolution volume envelope in the Main Effects strip would cause Kontakt to crash
FIXED Supercharger GT menus were not correctly returning engine parameter values
IMPROVED Missing content across all Kontakt instances can now be resolved from a single dialog
FIXED Under certain conditions some libraries (Kinetic Treats, Kinetic Toys) would not fully resolve missing content
ADDED KSP New bindings for modulation parameters ($ENGINE_PAR_ENV_AHD, $ENGINE_PAR_ENV_DBD_EASY, $ENGINE_PAR_LFO_NORMALIZE, $ENGINE_PAR_ENVF_ATTACK, $ENGINE_PAR_ENVF_RELEASE, $ENGINE_PAR_ENVF_GAIN_BOOST, $ENGINE_PAR_ENVF_ADAPTION)
ADDED KSP New bindings for effect parameters ($ENGINE_PAR_SCOMP_LINK, $ENGINE_PAR_COMP_LINK, $ENGINE_PAR_COMP_TYPE, $ENGINE_PAR_IRC_REVERSE,$NI_COMP_TYPE_PRO, $ENGINE_PAR_STEREO_PSEUDO, $ENGINE_PAR_IRC_ER_LR_BOUNDARY,$ENGINE_PAR_POST_FX_SLOT)
IMPROVED KSP Number of maximum declared controls of each type increased from 512 to 999 (except for ui_file_selector)
ADDED KSP New constant $NI_KONTAKT_IS_HEADLESS returns true if running in Maschine+
ADDED KSP New function get_event_mark() to match the existing set_event_mark(), checks if a bit-mark is set or not for a specific event
ADDED KSP Picture not found now returns a script warning
FIXED Boundary pushing of low and high note or velocity fade was inconsistent
ADDED Additional factory KSP multi scripts
FIXED Collection of minor cosmetic GUI fixes
Creator Tools 1.3.0 - 2021-01-26
MIR findLoop function, GUI Designer Template Project, Apply KSP script from Instrument Editor.
CHANGED Minimum supported macOS version is now 10.13
ADDED The group source mode can now be set via Lua
IMPROVED The group source mode now defaults to DFD when pushed via Lua
ADDED The KSP script can now be pushed and pulled via Lua
ADDED New MIR Lua function findLoop
ADDED Hide value checkbox is now available in the Table UI widget parameters
ADDED A new GUI Designer template project
ADDED MIDI Export area number can now be set for labels in the GUI designer
IMPROVED Factory fonts now show the corresponding KSP number in the GUI Designer
FIXED XY Pad was missing the background picture property in the GUI Designer
FIXED When copy and pasting GUI widgets the pasted names would not remain case sensitive
FIXED Variable names starting with numbers are now allowed
FIXED Num Enter key now behaves the same as the return key
FIXED Wavetable widget now shows the correct icon
FIXED Window size and state were not recalled correctly on Windows
FIXED In certain cases options would be incorrectly greyed out when right clicking a GUI designer widget
FIXED Clicking anywhere in the GUI designer would register as a file change
Tested, working on macOS Catalina
[sepblock]
6.5.3 - 2021-04-27
Bug fix
FIXED Transient Master could interrupt the audio signal under certain conditions
FIXED Effecrs loaded on the Main Effects strip could interrupt the audio signal under certain conditions
FIXED Loading a DAW preset with missing content could lead to unexpected behaviour
FIXED Changing the source mode would reset the zone speed to the default value[/sepblock]
Note:
(v6.5.0 FiXED)
FiXED NOTES
x86 is better (not showing player)
x64 enable the Add Library.exe again from regedit.
Added the add library tool and privacy enabler
[sepblock]
Native Instruments Kontakt 6 Portable
you can download
/9520-download-native-instruments-kontakt-6-portable-free.html
[/sepblock]
home page:
https://bit.ly/2Nbyps8
Related News: