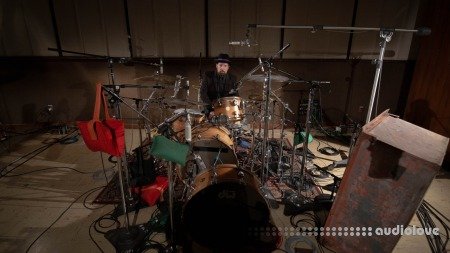 P2P | 10 April 2021 | 5.35 GB
At United Recording Studios, Jack Joseph Puig shares his deep knowledge and effective techniques for capturing an impactful drum sound. He first demonstrates the application of certain tools and accessories in preparing a kit, then takes you through his favourite microphones and preamps to use. After discussing details of the acoustic space, drum positioning and microphone placement, Puig enters the control room. Here, he shows a clever way of determining signal polarity, then illustrates his analog treatment of the audio. Joined by legendary drummer Josh Freese, Puig finally auditions every signal and contrasts the raw and processed results for you to hear.
PART 1
Puig demonstrates his use of certain tools and accessories to prepare a drum kit.
PART 2
Puig discusses his favourite drum microphones, and lists alternative options.
PART 3
After considering the acoustic space, Puig elaborates on his microphone positioning choices.
PART 4
Puig determines signal polarity, then reveals his analog gear used for treatment.
PART 5
Puig details each signal processing chain and its parameter settings.
PART 6
Puig auditions the raw and treated results for you to hear.
home page:
https://bit.ly/3mAE5PL
Related News: