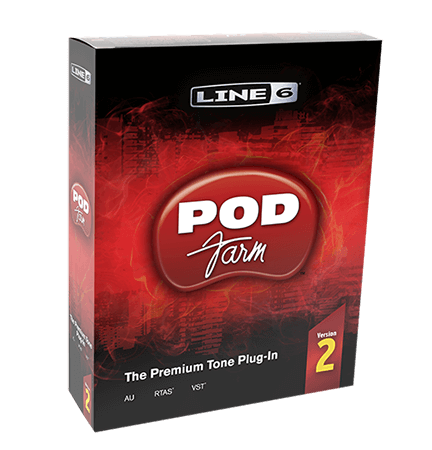 Team R2R | 14 February 2017 | 124 MB
POD Farm® 2.5 is a premium tone plug-in that brings world-renowned POD® tone to your favorite DAW. Using a simple carousel-style gear browser, choose from an arsenal of vintage and modern amps, cabs, studio-standard effects, classic stompboxes and colorful preamps. Each model is fully adjustable, and a lightning-fast workflow makes it easy to create classic tones and imaginative hybrids. Or you can choose from more than 1000 presets and dial up timeless tones in an instant. POD Farm 2.5 is more than just a plug-in - it's a dream collection of gear for guitarists, bassists and vocalists.
ENHANCED ROUTING WITH FLEXIBLE DSP
More flexibility than a real rig and pedalboard.
Featuring incredible routing capabilities, POD Farm 2.5 gives you the flexibility to create your perfect signal chain. Split your guitar signal and create two separate and simultaneous amp and effect signal chains. Route up to 20 FX models (10 per chain) in any order, before or after your amp and cab models. Even add post-cabinet mic preamps, and control both chains with the virtual A/B/Y box. You can also create Dual Tones - dual amp and effect signal chains that can be played simultaneously or one at a time. Pan the signal chains hard left and right for an incredible stereo experience, and control the whole thing using the new virtual A/B/Y box.
STREAMLINE YOUR WORKFLOW
Conserve CPU power with POD Farm Elements.
If POD Farm 2.5 is the toolbox, then POD Farm Elements are the tools. Each POD Farm Elements plug-in delivers a streamlined experience by providing access to single amp, preamp and effect models - the same inspiring models that are available in POD Farm 2.5. Small but powerful, POD Farm Elements offer the world-class tone of POD Farm 2.5 while conserving valuable CPU power. Need a phaser? Load POD Farm Mods. Need some fuzz? Load POD Farm Distortions. Why carry the entire toolbox when all you need is one tool…
Team R2R Note:
(v2.59)
* No iLok driver is required to run
* Loading is faster than original
* Additional modules will be decrypted properly

Some POD Farm compatible Line6 hardware makes this release unauthorized.
This is not our mistake, but it happens to legal version too. POD Farm refers
hardware's license enve if you have valid Platinum license in you iLok.

Another big challenge from R2R!

POD Farm is not protected by PACE-Wrapper nor WrapWarden. It means there are
no strong anti-debug functions in the binary. However, the virtual gears in
the additional modules are encrypted. If you just bypass the license check,
those additional modules does not process the sound at all.

We injected additinal code to software to make decryption working without
any access to iLok. The content decryption will work like the legit version.
Thanks to the all members and supporters to make this real!
home page:
https://bit.ly/3rch06C
Related News: