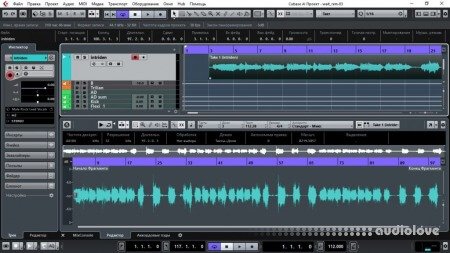 P2P | 31 Jan 2016 | 2.47 GB
Cubase Elements 8 is your personal music studio, incorporating professional workflows as used by countless professional artists around the globe. Using the same technology platform as its larger siblings in the Cubase family, Cubase Elements 8 offers tools for intuitive song-writing, instruments to develop your musical ideas and studio-grade effects.
Cubase Elements Key Features:
- Personal music production system, offering a set of streamlined audio/MIDI recording, editing, scoring and mixing tools
- Based on proven Steinberg Cubase technology used by professionals around the world
- Supports 64 MIDI and 48 simultaneous audio tracks with up to 24-bit/192 kHz
- Award-winning 32-bit floating-point Steinberg audio engine, flexible routing and full automatic delay compensation
- Includes outstanding virtual instruments: HALion Sonic SE workstation, MPC-style Groove Agent SE drum machine, Prologue synthesizer
- Comes ready with 44 audio effect processors, including Pitch Correct for vocal intonation correction, MorphFilter and the extraordinary VST Amp Rack guitar tone suite
- MixConsole provides the stellar mixing experience with full flexibility and integrated EQ/Dynamics channel strip modules for epic pro-console sound
- Chord track and chord pads for easy chord composing and management
- Includes dozens of presets and thousands of MIDI construction loops
- Streamlined score editing feature set
Composing:
- Key and Drum Editor for intuitive note, chord or beat creation and editing
- Streamlined and simplified, yet powerful notation environment
- Chord Track and Chord Pads allows for easy working with chords within your Project
Recording:
- Award-winning Cubase audio engine for crystal-clear recordings in up to 192 kHz sample rate
- Automatic intonation control and scale correction of vocal recordings
- Great sounding guitar amp and speaker simulation included
Editing:
- The Sample Editor covers all common editing tasks and provides creative freedom while editing audio
- Pitch shift and time stretch audio in real time
- Automatic hit-point recognition and excellent beat-slicing for working with loops
Mixing:
- Powerful MixConsole featuring full-screen mode, total scalability and quick in-place access to the parameters
- Integrated Channel Strip with premier equalization and dynamics modules
- Flexible routing, A/B comparison and global bypass for audio effects
System Requirements:
- Windows 7/ 8.x/ 10
Installation:
1. Disable internet connection.
2. Install v.8 installer first. Choose your language during installation.
3. Choose "Don't check online updates, I have a local install file" when asked.
4. After install, don't start it yet. Install update patch.
5. Afterwards, copy and replace the fixed executable into program directory.
home page:
https://bit.ly/1OKl5F3
Related News: