FANTASTiC May 10 2016 | 2.6 GB
We developed
Pure Jazz Vibes
in collaboration with Chris Poehler of Lujon Audio, who arranged and oversaw the entire sample recording as well as contributing his invaluable expertise to the production of the sample library itself. One of our top priorities for
Pure Jazz Vibes
was getting a pristine, yet natural vibraphone tone. We auditioned several vibraphones, finally selecting a 70's Musser Century Vibraphone due to its classic, warm tone. The Musser vibraphone is a legendary instrument, extensively used by vibraphone masters such as Gary Burton, Lionel Hampton, Milt Jackson, Bobby Hutcherson, Mike Mainieri, and many others.
The vibraphone recording session was engineered by Michael Aarvold at the WaterSound Productions studio in the heart of Studio City, California. Regarding the choice of WaterSound's studio to record the vibraphone samples, Michael says, "It has an exceptionally well-designed live room: the room maintains life and air in the sound, yet doesn't superimpose a distinctive and undesirable sonic signature. It is also extremely quiet, which is very important when recording delicate textures and maintaining a room aspect to the sound."
We always aim to recreate the playability of the real instrument as closely as possible, which is why we included a "vibraphone" play mode that uses your keyboard's sustain pedal to mimic the vibraphone's pedal. That way you can use your sustain pedal to switch between the tines being muted or unmuted. That being said, we also included a "keyboard" play mode, which lets you play the vibraphone as if it were a piano--the notes automatically muting when you release keys, unless you use the sustain pedal to let them ring.
One quintessential element of vibraphone playing is the tremolo fan. When enabled, these fans rotate, closing and opening the tops of the resonators to alternate between an open and muted tone.
Pure Jazz Vibes
uses advanced scripting to model the fan movement and produce ultra-realistic tremolo.
There's also a technique that expert vibraphone players use that we've never seen available in any other vibraphone sample library: mallet mutes. Mallet mutes, which we included in Pure Jazz Vibes, are when the vibraphonist uses the mallet to press a ringing tine in order to mute it. One application is to change chord tones in a ringing chord. To accomplish this, the vibraphone player would sustain a chord, then mute one of the tines while playing the replacement tine simultaneously.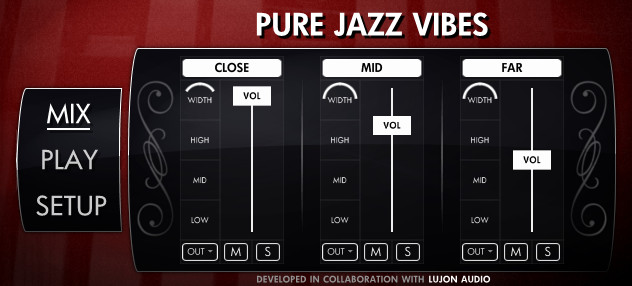 Features:
- Over 8 GB total 24-bit 48khz samples (uncompressed)
- 4 dynamic layers, up to 7x round-robin, chromatically sampled
- Separately controllable close, mid, and far mic positions
- Modeled tremolo with adjustable speed and depth
home page:
http://bit.ly/1Omae4K
Download Orange Tree Samples - Pure Jazz Vibes KONTAKT:
http://nitroflare.com/view/E83BC5BBBB1B4C8/9733.part1.rar
http://nitroflare.com/view/611DEFA2081911B/9733.part2.rar
http://nitroflare.com/view/12E9116FD7E268A/9733.part3.rar

http://rapidgator.net/file/661244e1295481fb714b53a85a06c398/9733.part1.rar.html
http://rapidgator.net/file/1e5ccb4b15594ee60a9be974c09e7336/9733.part2.rar.html
http://rapidgator.net/file/1aa3a716f959a6382c162355e44e90d2/9733.part3.rar.html
Links are dead? You can send request (you must be registred user) to re-upload articles
with dead links and our team will try to re-upload files for you as soon as possible.
Related News: